eCommerce Merchants Pay ZERO Transaction Fees in the US
Trade is one of the fundamental underpinnings of any economy; what started as a barter system is now driven by money. Once we start to think about it, it's amazing how convenient is money actually compared to having to decide what "thing" of value could we possible barter for a service! For e.g. you pay a monthly subscription for a daily newspaper, with cash, card or check. If the newspaper distributor did not accept money but instead you had to give something in kind, what would it be (a head massage?).
Doesn't it make you think that money makes life complicated and easy at the same time? The paradox of choice as we know.
Similarly picking the right payment gateway for your online business can leave you in a paradox of choice and at times you find yourself paralyzed by decision-making. From things to consider like fees, recurring billing, currency support, etc. to evaluating if the system is compatible; it's one thing you cannot get away with in eCommerce.
In my previous blog, I shared the key criteria to keep in mind while identifying a payment gateway. In this blog, I want to share a service which affects the first and most important criteria from there: Cost (A.k.a. Transaction Fees).

TRANSACTION FEES
When you process a payment, some gateways will charge or partake a small part of the selling cost for allowing you to use their application / software.  Each service provider could be different and some charge a flat monthly fee while other may charge a fee or percentage per transaction and a third one could come up with a combination of both charges.
Whether you run a small business or a high volume online business, Transaction Fees is the most volatile component.
In a simple business scenario, the higher transaction fees incurred simply increasing sales volume. Good? Bad? Irony?
The irony, of course!  But here, it is followed by some good news, especially for US merchants.
An incredible service aptly suited for all types of online business - small, medium  or high volume.
Zero % fees. FREE for transactions of $10 or less.
ONLY 25 cents for transactions above $10.
While negligible transaction fees are the key feature of Dwolla, what makes it attractive for businesses is also that it offers custom payment solutions and a secure process to protect sensitive financial information; thereby removing a significant online business risk.
The fee comparison image below, I am sure, will make you gasp as you find out how much transaction fees can you save to receive a payment!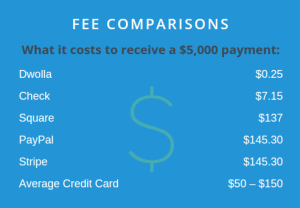 Image source: www.dwolla.com
Not only for your eCommerce business but for your regular personal payment transactions such as rent, splitting bills or buying grocery can be managed through Dwolla. The only limitation being its services are limited to one country - US.
Do you know of any other such incredible services which cover more countries? Please share in the comments below to make a great contribution to the eCommerce community.