Google Plus: Your Easiest SEO Tool
Google is world's most famous search engine by far. Well, who doesn't know that!
Social media strategies increasingly revolving around search engine optimization makes it essential for businesses to establish a presence on Google. Here, we are not just talking about building a website and ensuring it can be "Google enabled".  Any business's online marketing strategies are now focusing on continuous conversations online to engage the audience and incite them to learn more about the business. To enable that platform on Google, it has positioned Google+ as channel businesses can use.
With 250 million users and counting, including Google+ in social media strategy is an undisputed reason.
Considering such outreach, here are 5 most basic ways how you can take advantage of this platform.
A Google+ page is your company's spot within the online network and its presence can have a  positive effect on search results. The About page is a great opportunity to give a quick overview of your business and you can read here why this page is so important. Ideally, use this to link back to specific pages on your website, directing potential customers to the most important pages of your website.
 Remember, Call-To-Action?
When someone looks up your business on Google, they would see your Google+ profile on the right-hand side of the search page (once you create). That allows users immediate access to visit your company profile and see what you have been up to lately! Keeping visitors updated cannot get easier than this. Can it?
2. Find Relevant Users and Conversations
After you have created your Google+ page, next task is to create and manage circles. Circles are basically the community you want to engage with, the network relevant to your business and likes.  Circles is the core element in Google+ that enables you to segment audience by geography, profession, industry, or any criteria important to your business.  Once you have your business circle, you can post the content in the relevant circle to increase response and engagement.
A good practice is to find other relevant, non-competitive businesses, as well as businesses with target customers similar to yours, and follow them.The more you remain engaged with activities in circles, re-share posts and comments on posts by others, the more visibility your company profile receives as these activities are visible to follower's streams of everyone within your circle. Posting relevant content routinely, is a good way to keep your business on top of your customers mind.
3. Connect With Your Audience Using Google+ Events
As Google calls it, "Celebrate what matters with the people who matter most".  With Google events you can send out invites to webinars, work functions, networking events, talk show, etc. These events could be either the one you are hosting or those that you are attending. Any or every event could be a catalyst to get your business visible; a virtual network that works for real life.
The coolest thing about Google+ events is that it syncs wonderfully with Google Calendar and shows up automatically when a user confirms for an event. No more maintaining a separate events calendar. It doesn't end here though. To complete the circle of events, Google+ also allows instant upload of pictures into the same album using Google+ mobile app.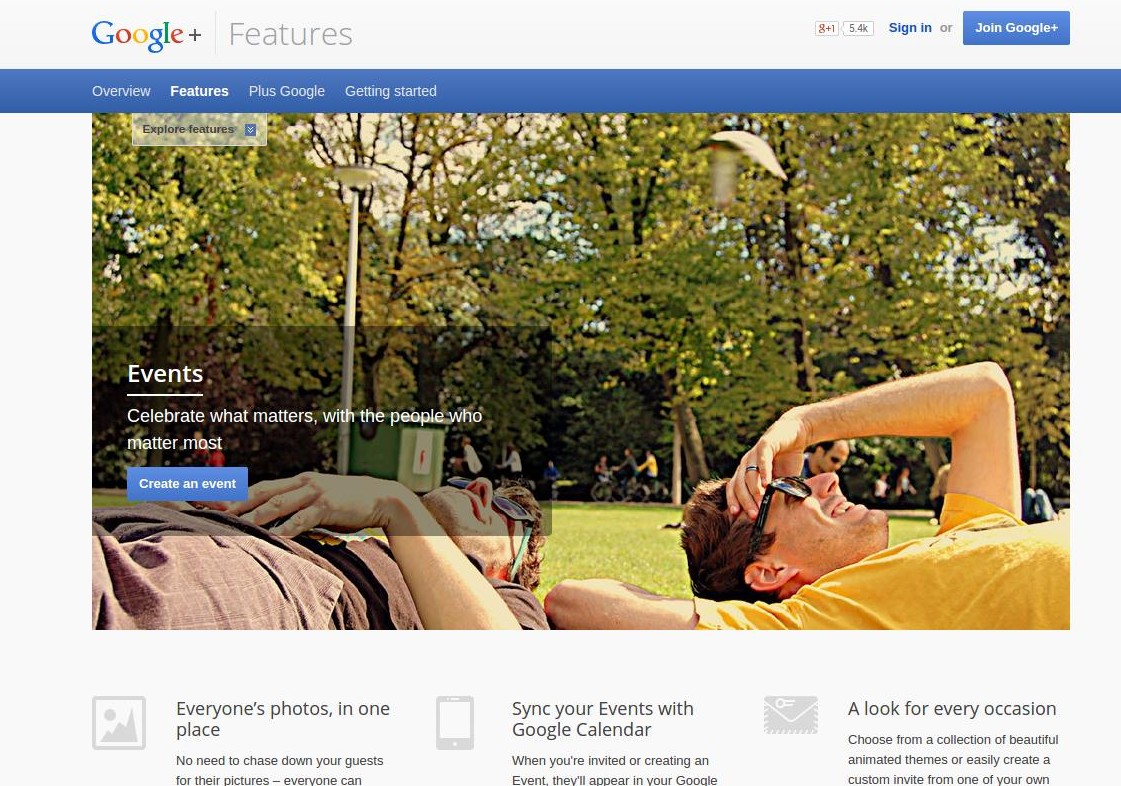 4. Connect with Customers Using Google+ Hangouts
Google+ Hangouts enable you to host a video call / chat with up to nine other people. It's easy to connect with customers face-to-face and this feature is a blessing for online merchants who do not otherwise get to see their customers. Two popular reasons for using hangouts for business is to host customer appreciation events and to bring the team together, if working remotely. This part of hangouts is mainly to reduce the communication gap that happens with overuse or under-utilization of emails and other forms of written communication.
Another outstanding feature of hangouts is "Hangout on Air", that allows live-streaming and recording the hangout. This recording can then be made publicly available via Google+ or YouTube. This feature is put to it's best use for launching new products, giving product demonstrations, sharing expert advice with the community through an interview or even to showcase the celebration spirit of your own team on a big customer win or an upgrade to your services portfolio!
5. Take Complete Advantage of Images
As an online seller, visual content is perhaps your most sought after way to catch buyers attention. And how much does it annoy you when you have to crop and resize the image to suit different social media platforms? A lot, we know. And the truth is not every image you want to share fits within the restricted space and dimensions. With Google+, it's a different experience. It doesn't auto-crop your images or requires to resize; it allows you to upload the image as it is. With Google+, you have the freedom to show your product images exactly how you have clicked them and hope to re-create the vision and use of that product as you have envisaged.
Now that image editing task is put off, why don't you check out some product photography tips that do not involve any professional photographer or a DSLR. Just the basics.
Conclusion:
The growing popularity of Google+ and the ease of operating it makes Google+ a key tool online merchants should consider adding to their social media outreach activities.
This Infographic is the simplest explanation of how Google+ works and how you can use it as a marketing tool.