Checked Out? No.
Hi Rockstar,
I am an e-tailer. I have my business website, wonderfully designed and I sell various types of accessories that interest all age groups alike. I am passionate about what I do and I have made sure my product descriptions are unique and the photos clear and attractive. I researched a lot before setting up my own e-store and I offer Retail-Therapy too to ensure my customers are engaged. I get a good number of visitors on my e-store, many of them quick enough to add products to the wish list.
I have been in this online business for nearly a quarter now and in spite of doing it all "right" I see an alarming situation. With the increase in traffic to my website, I also see more and more shopping carts abandoned. I am very sure I have not overly priced my products.
What do you think is happening here? What do you suggest I should do?
Thank You,
Robert
----------------------------------------------------------------------
Hi Robert,
You are very new to the eCommerce business, yet have tried to manage a lot of things in just one quarter. That's excellent! Interesting to know that Retail-Therapy is on your mind too.
I appreciate you sharing with me this situation you are facing and I am sure that your apprehension resonates with many other online sellers.
Let's address this by analyzing few steps in the online purchase process. It is fairly simple and same across all eCommerce platforms. You get visitors on your web-store, they like an accessory you sell, they find the price right and add it to the shopping cart.
They go to the checkout page and….the next step they follow is: "To buy or not to buy". Contemplation begins, shopping process ends, almost ends.
Do you see what happened here?
The customer who was so sure on buying that accessory got hit by the shipping and handling charges. If you are lucky, the customer may still come back in few minutes and make the purchase, but otherwise, as you already experienced, you will be counting abandoned shopping cart rows.
Now, what can you do to influence their decision? Let's discuss few strategies that could help you turn browsers into buyers.
------------------------------------------------------------------------
Robert, let's face this. Though we all know shipping is the tipping point in the sales cycle, Nobody's interested in spending time on identifying shipping modules or taking a strategic approach towards that.
The average rate of Cart Abandonment calculated by Baymard is 68.07%
That means that only roughly 1 in every 4 customers actually finish the purchase.
Now let us look at the reasons why shopping carts get abandoned.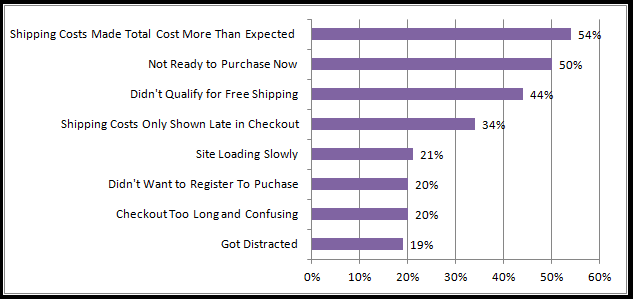 There are various reasons why people are not checking out a product from your store. We have heard this too often, "You can't Please everyone". It remains true for your shipping strategies too. And the fact is there is no one shipping vendor or shipping policy that fits all. It depends on the industry you're in, the kinds of products you sell (in your case accessories), the weight of the items you're shipping, and your customers' needs.
Still, here are few options you should consider and incorporate in your eCommerce plan.
Option #1: Offer FREE Shipping
Everyone loves getting something for free. Offering free shipping, at least for domestic products, continues to remain the most preferred option when checking out an online purchase.
To chose whether to offer free shipping or not will require you to absorb some cost or increasing the prices of your products slightly. Former might be better to stay ahead in the competition of favored vendors.
If not on all products, you can choose a) minimum value order b) on selected products
c) on a number of items purchased d) on certain days and of course during Festivals, spread the cheer!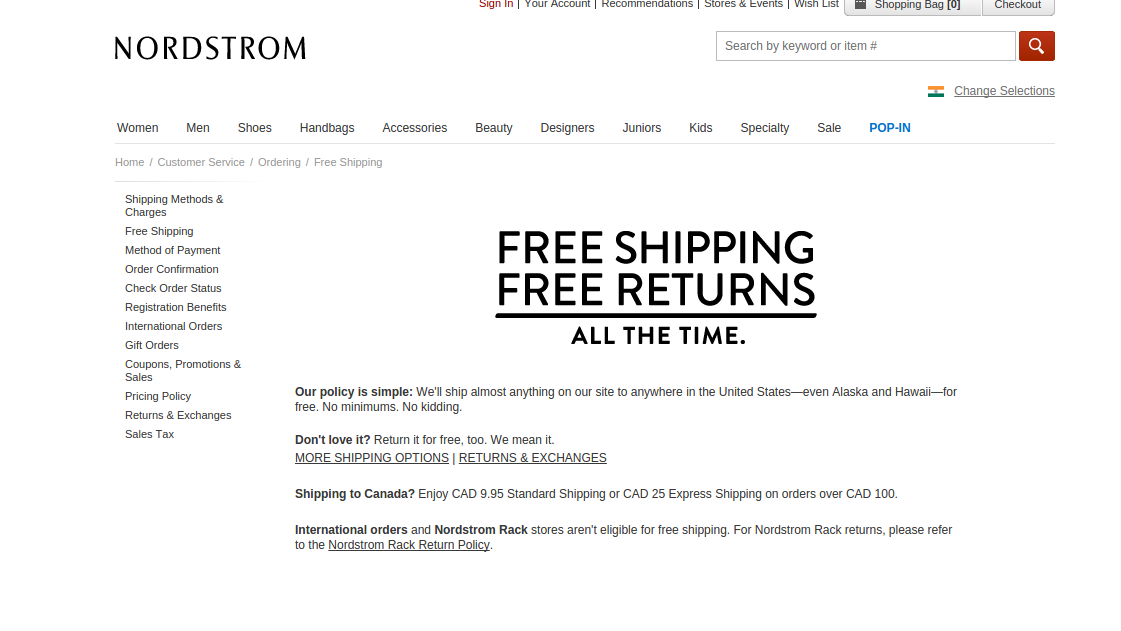 Option #2: Offer FLAT rates
You can choose to offer a standard, fixed shipping rate on all products. But to do this, do a little bit of homework and some simple math. Based on the shipping costs you have incurred in the past quarter, calculate what is your average cost through multiple shipping vendors and various locations. Derive a rate which you want to consider as a flat rate to offer your customers, figure out if you need to do it on order totals or weight ranges.
Your focus here should be to make it as inexpensive as possible and delivering the product in a reasonable time, whether someone purchases one product or more.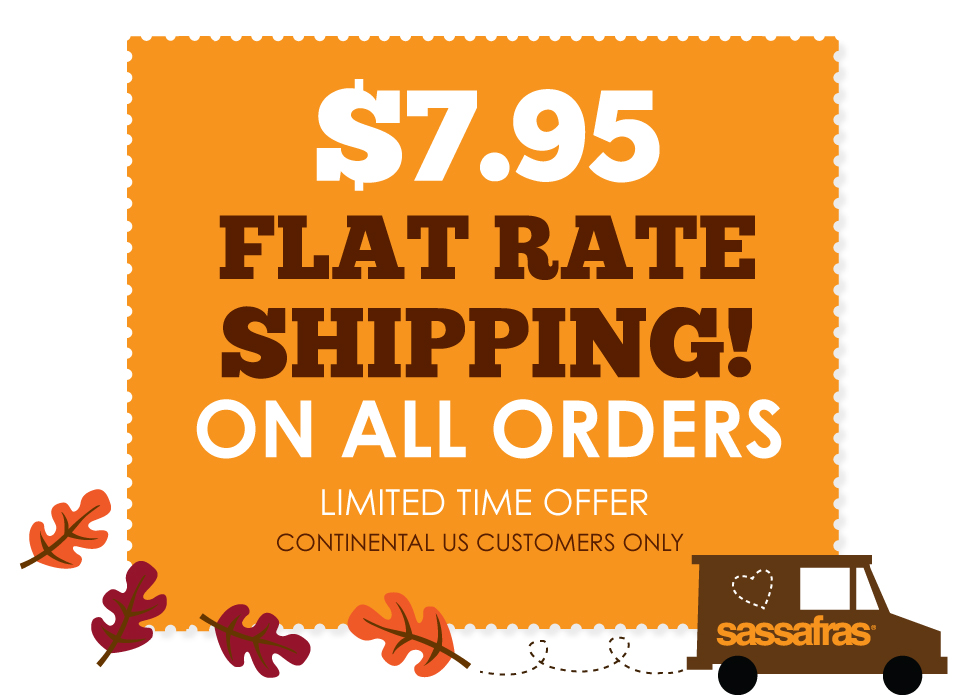 Option #3: Tell Upfront
Unexpected costs is a huge deal breaker for many online shoppers.This is a friction point which can be easily avoided.Seeing the shipping costs and estimated delivery date early in the process are important.   For the convenience of a product being delivered right at the doorstep, shoppers are willing to pay a little extra, but they need to know what is happening. By making the important information available upfront, you can achieve two critical milestones in eCommerce - 1) User experience 2) Trust & Transparency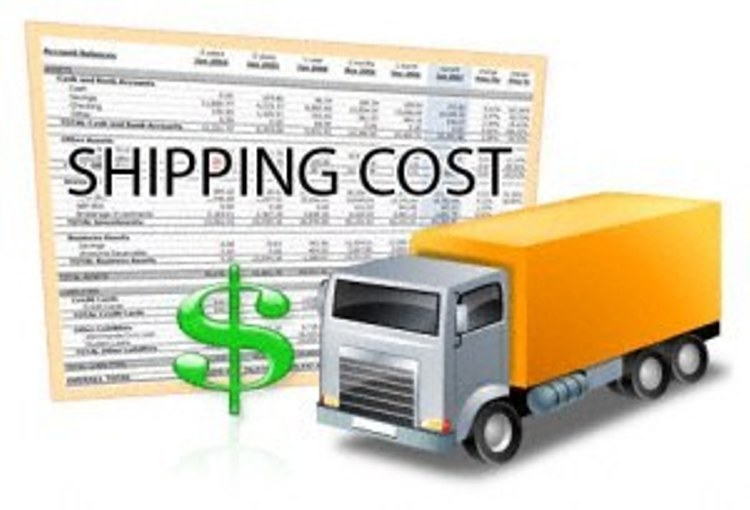 Option #4: Let customers decide
Are you driving away your customers by allowing them to pay only through a certain mode? Sometimes the simple reason shoppers don't complete a purchase is that their credit card wasn't an acceptable form of payment.
There is really no excuse for at least trying to offer as many options as possible, and let your customers decide how they want to buy. Go beyond the VISA and MasterCard. Include third-party payment services like Paypal or Braintree. If you have the bandwidth, offer Cash-on-Delivery payment option on some products.
How about considering a Pay in Installments plan for your frequent customers?
Online shopping is as much about the experience as it is about convenience.
Take a look at other things on your website which can enhance user experience and help reduce abandoned shopping carts.
Is the Shopping Cart Readily Accessible? How is your checkout process? Minimal or requires multiple-page checkouts.
Do you have the option for express checkout OR All shoppers must create an account to checkout?
Easier and faster process reduces the shopping abandonment rate.
Robert, a good idea might be to try a different combination of these options and observe how things evolve over the next quarter. Once you have attempted a few combinations you will know exactly what works for you.
Remember that checkout is the last transaction you can influence.
Create your own Best Practices and do not forget to share with us what you have learned.